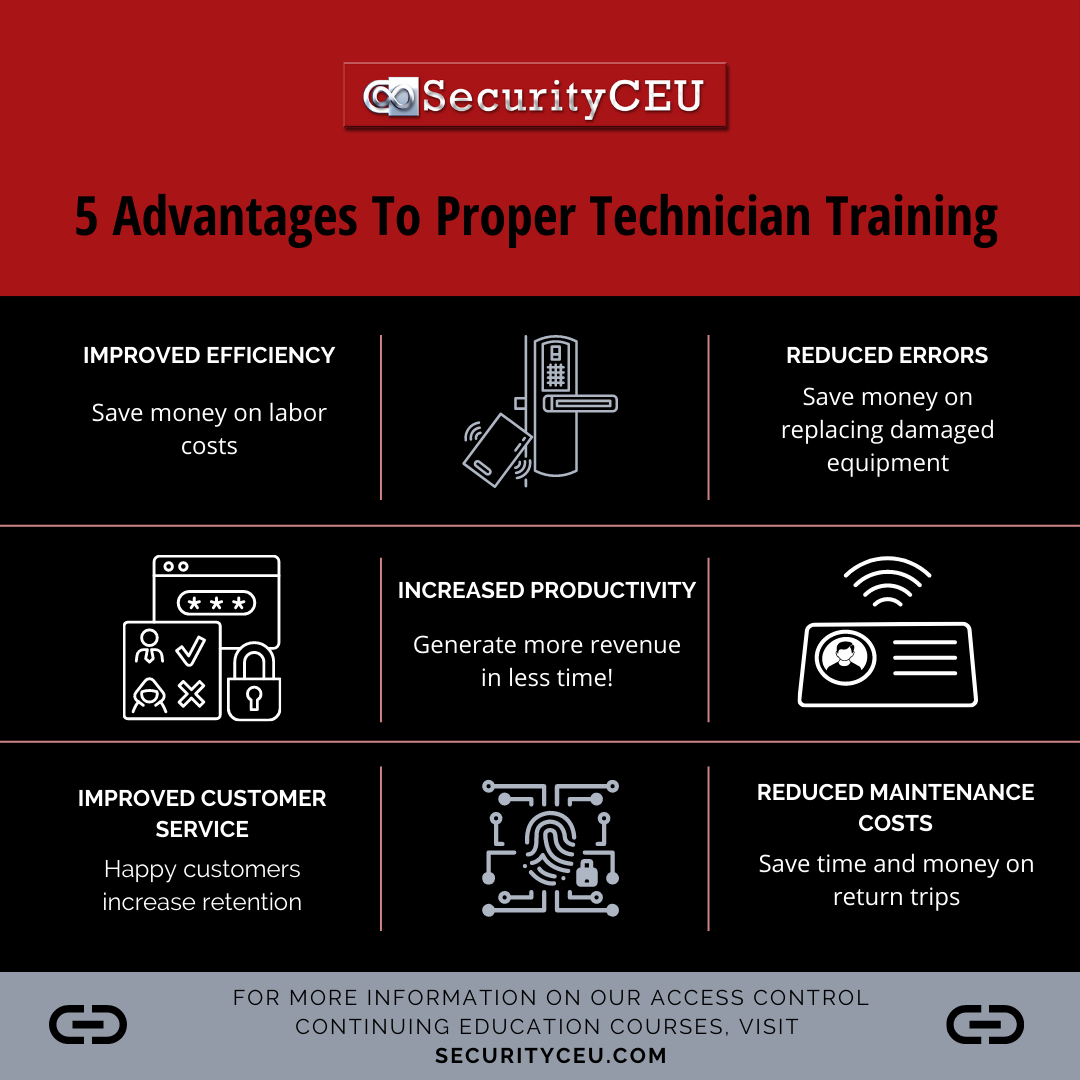 Having an access control certification can provide many benefits for businesses and individuals. For businesses, it can help increase productivity and reduce costs. For individuals, it keeps them up to date with the latest information and technologies and it gives them more opportunities for advancement.
Technicians are the backbone of a security company that provides installations. They are the ones who keep the business running smoothly by making sure that your customers' systems are installed and repaired properly. That's why it's important to ensure that your technicians are properly trained.
The benefits of training your technicians are numerous. It ensures that they have the skills they need to do their job properly. This can help to avoid costly mistakes and ensure that your customers' access control systems are installed, configured or repaired correctly the first time. It can also help to improve efficiency in your company, which can lead to lower labor costs and increased profits.
In addition, training helps to keep your technicians up-to-date on the latest technologies. This can help them stay ahead of the curve and give your business an edge over the competition. It can also help you attract new customers who are looking for a security company that employs technicians who are knowledgeable about the latest technologies.
When it comes to the care and maintenance of your customer's access control systems, you want to be sure that you're leaving it in the hands of qualified professionals. That's why it's important to make sure that your technicians are properly trained. When your technicians are properly trained, they're able to provide you with the best possible service, ensuring that your customers systems runs smoothly.
Here are just 5 advantages getting proper training for your technicians:
So if you're looking for a way to improve your company's efficiency and profitability, consider investing in access control training. It can make a big difference in the long run.
If you install multiple products and provide a range of services, consider investing in ongoing access to our wide variety of certifications and continuing education courses